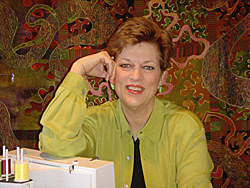 Libby Lehman began making quilts 35 years ago when her mother, Catherine Anthony, signed them up for a basic class. Over the years she has evolved from a traditional handworker to one of the leaders in innovative machine stitching. Her studio art quilts have won many awards and appear in private, corporate, and museum collections, including The Museum of the American Quilter's Society, VISA International, Fairfield Processing Corporation and Cogen Technologies. She is the author of Threadplay with Libby Lehman and her quilts have appeared in many books and international publications. Her quilt Joy Ride was chosen as one of the Best 100 American Quilts of the 20 th Century. In 2004 Bernina awarded Libby their prestigious Quilt Leadership Award. In addition to making quilts, most of her time is spent teaching, judging & lecturing in the US as well as internationally (Canada , Japan , Australia , the UK , Germany , Spain , New Zealand , and Switzerland).
Libby lives in Houston, Texas, her native city, with her husband, Lester. They have a 35-year-old son, Les, Jr., who is an acclaimed fly fisherman. Libby and Les have a great time exchanging threads and gadgets.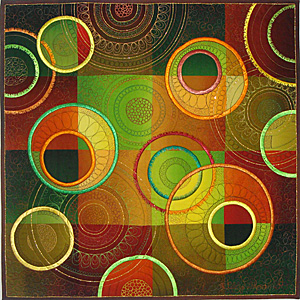 See more of Libby's work
Workshop: Threadplay Thrillers
The quilt to the right shows some of the threadplay techniques that make Libby's works so outstanding. Libby will let you in on her secrets from start to finish, from designing to binding. Students can choose to make one small top or several. Learn Sheer Ribbon Illusions, Potluck and Double Duty Applique, Bobbin Drawing, and much, much more. Most important, come to class with an open mind. It will be full by the time you leave!
(Supply lists are provided by the instructor and you are encouraged to direct any questions regarding required equipment and supplies to the instructor.)