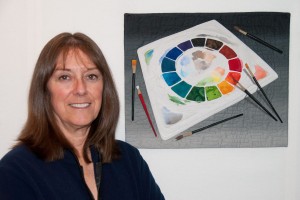 2011 QUILT CHALLENGE WINNER & 2012 QUILT CHALLENGE THEME ANNOUNCEMENT
Congratulations to Cat Larrea for winning the Best of Show category for our 2011 Quilt Challenge, Baker's Dozen, in celebration of our 13th year! And our congratulations to Suzanne Beck for winning First Place. We always appreciate everyones' participation in our challenge.
So, to give everyone the opportunitiy to participate in 2012, we are pleased to announce our challenge theme for 2012…our 14th year!
"SONNET"
A Sonnet is one of several forms of poetry that originated in Europe, mainly Provence and Italy. A sonnet commonly has 14 lines. The term "sonnet" derives from the Occitan word "sonet" and the Italian word "sonetto", meaning "little song" or "little sound". By the 13th Century, a Sonnet signified a poem of fourteen lines that followed a strict rhyme scheme and specific structure.
All challenge quilts should adhere to the challenge theme and be a minimum of 2' x 2' to a maximum of 4' x 4' and should have a sleeve attached so that it can be easily displayed at our conference next November. Information regarding your challenge quilt should be received no later than October 15, 2012. Thanks for participating!