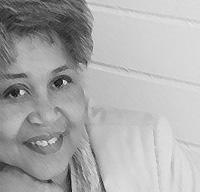 "I am an architect and artist. I create fiber art inspired by realistic and abstract maps. As a child I loved maps, spending hours poring over them, intrigued by their beauty. Later, I noted how architects and other design professionals use "maps" to communicate information to contractors, clients, and the public. As a result my work shows my passion for the language of architecture and cartography."
Valerie Goodwin is a mixed-media fiber artist whose background as an architect plays a key role in her work. Overall, her art has moved through various stages, from traditional quilt design to abstract fiber art and, more recently, to work inspired by real and imaginary maps of landscapes and cities. Her compositions work on a number of levels, from close up and far away, as if an aerial view.
Goodwin combines traditional materials such as fabric and thread with sheers, paint, and digitally printed images. At the beginning of the process, she creates rich surfaces that are analogous to the ground plane upon which the map-like elements are layered on. Interesting surface detail is also created using hand and machine stitching.
The artist received a master's degree in architecture from Washington University in St. Louis after receiving her undergraduate degree from Yale University. Her interest in fiber art began as part of her involvement in teaching architectural design classes in Tallahassee, Florida. Goodwin began designing and making quilts in 1998, and it has become an important part of her life.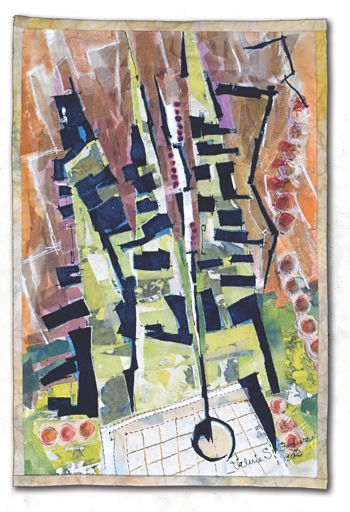 See more of Valerie's work
Workshop: Map Play – Using the Basic Principles of Design
Level: Intermediate to Advanced
Come play!! Create artful map studies through creative exercise that will help you understand the basic principles of design. An art quilter's most valuable asset is his or her creativity — and it needs to be reinforced through an understanding of design thinking. In this workshop you'll find creative thinking exercises. Beginning with an exercise related to the seven principles of design –work instinctively with color – explore creativity through experimentation. All works are small, enabling you to develop ideas quickly and freely.
You will create paper map-like collage compositions through a series of quick "hands-on" exercises and subsequently make fabric constructions. The goal of this class is to allow you to create little spontaneous works that can become the basis for a final small quilted art map. You will develop these pieces using freehand scissor cutting, layering of varied fabrics, and other techniques to create an interesting work of art.
The primary prerequisite is a desire to have fun through the creative process and willingness to trying something new. This workshop produces mapping samples that can be used in later quilted, painted or stitched works.
There will be a modest materials fee of $10 per person to offset costs of instructor supplied supplies.
You will be making relatively small pieces, therefore you will not need large quantities of fabric, but you will need an assortment of colors and values with which to work.