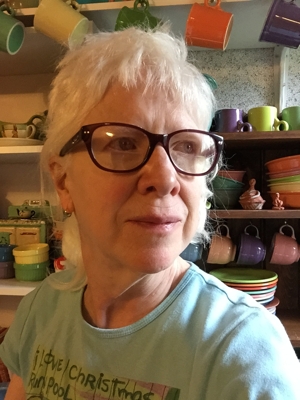 I'm a storytelling artist, and I use drawing, painting, writing, and stitching on whole cloth surfaces to create my narrative art quilts, and I've been doing all these freehand processes I use now since I was a small child. Now I sew almost entirely by machine, with a little handwork around the borders, to remind myself of all the hand sewing I did for years and years. By machine quilting my paintings, I can tell more stories than when I was hand sewing day and night!
Both of my college degrees are in painting: from The College of Wooster (BA, 1981) and Kent State School of Art (MFA, 1986. But I have sewn all my life, and intentionally include sewing in my work, as a feminist statement that honors "women's work" down through history.
My husband Jimmy Acord and I live in Wooster, Ohio, where we both have home studios for our art making. Jimmy has been a leather artist since 1977.
I'm interested in current events and social justice, from saving the earth to human rights. My work includes everything from my personal diary writing to recordings of current or older historical events in the world. My GREEN QUILTS world project (1989 to 2004) and now my Kitchen Tarot project (1998 and ongoing to at least 2022) both include lots of diary and social commentary within any given piece's actual theme. I am very interested in politics and history, and feel that being an artist is a good way to express my opinions peacefully, in a constructive way.
My awards include "Best of Show" at Quilt National '87, two NEA grants and several Ohio Arts Council grants, including a Major Artist's Grant and a 6-month residency in NYC, as well as a residency in China. In 2008 I received Professional Quitler's Teacher of the Year Award.
I've had work in 13 Quilt Nationals (including QN '15) and have participated in up to 20 exhibitions per year, back to the mid 80s. I teach around the US and abroad, and have private drawing lessons and weeklong Turtle Art Camps at my home studio. In January 2015, I began teaching an online drawing class called Lucky Drawing, which is set in 4-week class sessions, separated by 2-week breaks, and meant to be continued, like taking a yoga class year round. We work with large hardbound sketchbooks and any drawing media the student prefers, with weekly assignments and daily drawing exercises. This online class includes artists at all skill levels. I interact a LOT with my online students, so the class has a feeling of being a regular classroom, with all of us getting to know each other quite well. But I love teaching in person the best, because then we REALLY interact!!!!!
I teach to help other artists believe in their own creative abilities and learn to see artmaking as both a healing process and a way to express ourselves in our own voices, in a natural way.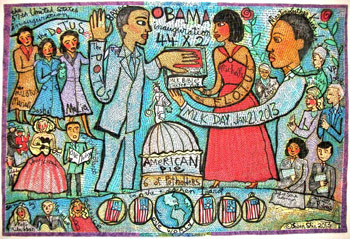 See more of Susan's work
Workshop: Explore Freehand Drawing and Painting on Paper and Cloth
In a safe and relaxed, yet hard working environment, explore freehand drawing and painting, and writing with markers and optional airpen, on paper and white cotton fabric, to create narrative drawings, and cloth paintings you might quilt at home. We'll work a lot in 11 x 14" hardbound sketchbooks and each create at least two larger paintings on cloth, in the class. All drawing will be intuitive, and as a very wise woman said to me recently, "I never let not knowing how to draw stop me!" I say it's time for quilters to learn to draw, and the way to do that is to draw, and draw a lot! And we'll all honor each other's efforts, I promise! AND you'll find out you're pretty good at it, too!
Each day we'll start with Library Time, my 10-minute quiet time, in which we draw and/or write on paper, whatever pops into our heads. Then we'll choose a theme together, and you can use it or do your own thing. Then we'll use sketchbooks to create a double page spread drawing of the theme (or not!), using drawing tools of our personal choice. Later we'll draw freehand on Kona cotton with black permanent rub-a-dub markers, then brush paint the colors into the cloth painting, and finally use the markers again, as well as airpen (if you want to use it) to write freehand on the surface, creating a verbal texture over the images in the story. Writing is also optional in this class. Do it or not.
You'll be drawing like you did as a child, in relaxed wonder over your abilities, and writing off the top of your head, just like when you write a letter. You can use the sketchbook drawings to inspire your paintings on cloth, but only as a springboard. No rigid copying! This spontaneity is what makes naïve art and children's art so appealing to the viewer and so happiness-making for the artist.
During the class, I'll demonstrate each process, and I'll spend time with each of you, making sure you're happy about how things are going. I'll do one-on-one instructions with each student with the airpen. (You don't have to try it at all, but those who do may love the airpen!) I'll have two airpens going at once in the class. You may get lots of turns to use the airpen in this long of a class, if you like it. And I'll teach you how to load and clean it out, if you think you'll buy one for yourself later. Don't buy one ahead of time, since you'll really want to see if it's something you want to own.
The last day, I'll demonstrate how to make my unique self-bordered quilt sandwich and then do crazy grid quilting, so you can use my methods when you get your painting on cloth home. It's very simple, and you'll pick up the method very fast by watching my demo, and I'll give you my very detailed PDF file of all the processes in this class, for your home reference.
The real purpose of my classes, besides teaching you to love drawing again, is to bring out your freer inner self, and to get your creativity really flowing out again. I try my best to get you to ignore rules and just let the ideas come out in a smooth stream of consciousness. We'll be giving show and tell presentations of our work in class, so we all know what else is going on around us during the class.
I don't need for your work to look like mine. I want you to be able to really GET it, that it's healthy to get away from our social morés and let 'er rip sometimes, especially in making art! You'll learn a lot and have a good time, too! There's much less stress when you're not judging your work so much, and in that state, you're helping your mind and body to stay balanced and healthy.