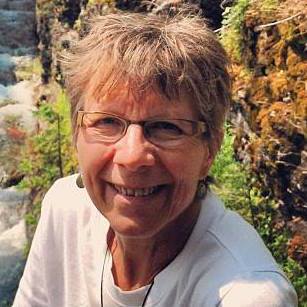 Susan Carlson is an artist by birth, a teacher by calling, and an author by choice. She has been developing and practicing her own technique of fabric collage quilting for over thirty years, teaching it for 20 years, and has written two books describing it (Freestyle Quilts and Serendipity Quilts). Each year she travels around the country and internationally helping hundreds of students to discover and set free the quilt artist inside themselves. Her quilts have won awards from the American Quilter's Society and the International Quilt Festival. Her quilt, "Golden Temple of the Good Girls" was exhibited at the 2015 AQS Quiltweek Paducah. Susan is a graduate of the Maryland Institute College of Art and a long-time student of the Meta Carlson Studio of Fabric Creations (e.g., her mom's sewing room). As is evident from her work, Susan is an animal lover. Besides Polka Dodo (seen here), she has created quilts of a pink rhino, a golden toad, a prehistoric fish, family pets, and has recently finished a life-sized, twenty-foot long saltwater crocodile. She plans to combine these and other pieces into a traveling show she will call "Specimens." She shares her home with two dogs, a cat, a budgie, a bearded adult male and an unbearded male human on the cusp of adulthood.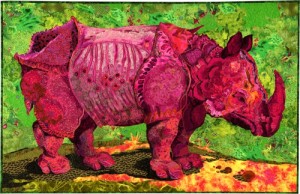 See more of Susan's work
Workshop: Fabric Images
5-Day or 7-Day workshop is available!
Using her own free-hand fabric collage process, Susan treats fabric as one would apply paint, adding layer upon layer until the desired effect is reached. Working with your own design, Susan leads you step-by-step, from fabric selection through quilting and binding. Through your choice of fabrics, she'll help you find the patterns, textures, and colors to reveal the unique aspects of your subject matter. This is a template-free class, encouraging playfulness, serendipity, and a willingness to cut loose. Typical subject matter include animals, people, and still-lifes.