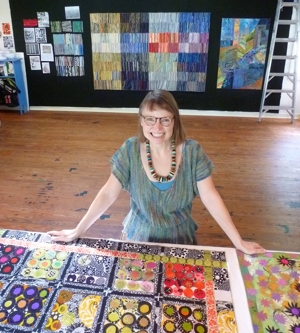 While pursuing a degree in molecular biology and master's in biomedical communications, Sue Benner transformed her vision of the microscopic universe into batiked quilts, soft sculpture, and paintings. These early efforts drew her to a new path, and by 1980 Sue was working full time as a studio artist in Dallas, Texas, primarily in the medium which later became known as the Art Quilt.
Sue is a recognized innovator in her field, having developed new techniques in fused quilt construction to further the expression of her ideas. She creates her richly layered quilt canvases by collaging her dye-painted and printed silks with found fabrics that she rescues from the obscurity of attics and thrift stores.
Sue is also well known as an educator, lecturing and teaching workshops internationally in the areas of surface design, textile collage, fused quilt construction, and artistic inspiration. Her work is represented by galleries and dealers around the country. Most recently she completed several commissioned works for a hospital in Minnesota and has been commissioned to make an art quilt for BNSF Railways. Exhibiting widely for thirty years, her work has been juried into Quilt National seven times. Sue's artwork is in many private, corporate, and institutional collections including the National Quilt Museum and the International Quilt Study Center, the Museum of Geometric and MADI Art, the Neville Public Museum, and the National Quilt Museum. Recently she curated the exhibition, Quilts: The New Geometry, for the MADI Museum in Dallas, Texas. She has served as a juror for both Quilt National and Quilt Visions.
"The act of creating is a fascinating process of choice and discovery. The work has taught me to respect intuition, persistence, and the happy accident.
Being born into a time of Abstract Expressionism, I absorbed that "ism" as a fact of life, later translating this into the dyeing and painting of fabric. Matisse and Rauschenberg were my guides to cutting and combining of these fabrics, as well as the enduring history of American quilts. My mother taught me to sew carefully, and helped me make my first quilt at the age of ten.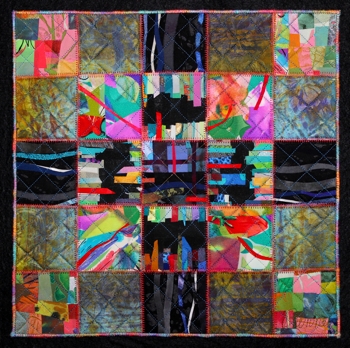 See more of Sue's work
Workshop: Construction/Abstraction
5-Day or 7-Day workshop is available!
LEVEL: all levels
SEWING MACHINE USED? Optional (only needed if you want to quilt and bind).
DESCRIPTION: Experiment with building abstractions that merge process and technique in the creating of art quilts. Beginning with Sue's fusible collage methods developed in her series Walking Through Time, she presents a progression of exercises that builds design and technique skills. Participants can then take this information in their own directions. This is a great workshop for developing new ideas in composition, color, and sensitivity to proportion.
(Workshop includes PowerPoint presentations, demonstrations and handout.)