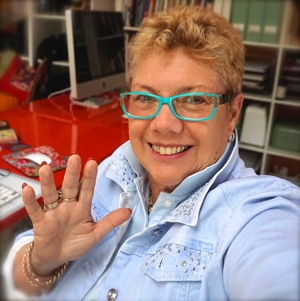 After a career as a photographer, and fashion designer Pam has been working in the quilting industry for over 30 years.
She travels 10 months of the year to far flung places teaching the art of quilting.
Her experiences in teaching and travel have been the inspiration for most of her quilts and has given her the reputation of shaping something new from the already established.
Drawing, writing and filming while she travels form the basic plans that she uses to create quilts when she's home in the studio.
Pam has been lucky enough to win numerous International awards including BOS in Houston and other major shows and currently has 3 new books in the process.
She has been supporting artist to Ricky Tims and Alex Anderson in the Ricky Tims super Quilting Seminars and featured artist at many events including the fall program at Paducah 2017 where she will present her own exhibition and teach.
Pam lives in the Adelaide Hills in South Australia and is married and Mother to 15 children and Grandmother to 26 who all live close by.
Workshop: Thread painting portraits (with a twist)
This class produces the most amazing results. A realistic portrait created in thread. To be honest the image looks just like a painting.
The process is to use a portrait printed on fabric and learn the techniques I have adapted to produce a realistic image.
Yes, it could be your grandma, friend, aunt or even your favourite pet but contact me for information on the best image to use.
What's the 'twist' the method of producing a piece of work that looks realistic rather than a stitched quilt.
I will have all the information on my web page http://iampamholland.com.