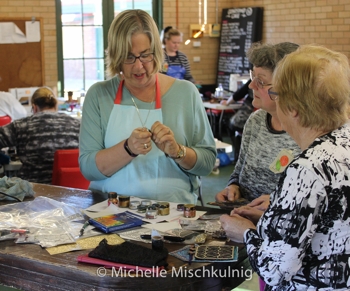 My husband, our beautiful newly adopted golden retriever Ari and my handsome rag doll boy Loki live in Chirnside Park. Our house looks over the Yarra Valley, one of Australia's premier wine growing area. I love where we live watching the change of seasons through the valley, the chattering of the parrots and warbling magpies. Chirnside Park is in the Melbourne metropolian area about 40 minutes from the city. Melbourne is a beautiful city, so vibrant and alive, it is the cultural hub of Australia.
I have 2 grown up children, my son is 30 married to a wonderful woman and my daughter 28 has a fantastic partner, we are indeed lucky. I am 56 years old and have been married to Dallas for 34 years and our love only grows each and every day. he has always supported in my artistic journey and for that I am so grateful.
Things I love and that inspire me are the beach we still get out in the surf and I love the sparkling sea and frothy surf, sand and salt on the skin. I love playing in my garden which is planted with lots of natives which are attracting all our native birds we are so lucky to be surrounded by many chattering and colourful parrots, large cockatoos and endless others. I love the change of seasons watching the colours and the light change over the valley each season brings its own beauty. I love good friends and good wine I really love to laugh.
Biography
I have been a textile artist for ever 🙂 , training as Textile designer but immediately after graduating being picked up by a interior designer to do one of prints. I have made clothes for boutiques, lampshades, cushions, children clothing etc and about 18 years ago started full time textile art work. I am fortunate enough to have been creating full time soon after graduating from university, working in my studio for about 6-8 hours a day. I am very disciplined, and very passionate. About 5 years ago I made a decision to only create what i want to and stop creating in large quantities what sells and this is a exciting and satisfying road to travel.
In Australia we are surrounded by colour and these are the colours that resonate through my art work. My life is very happy and complete.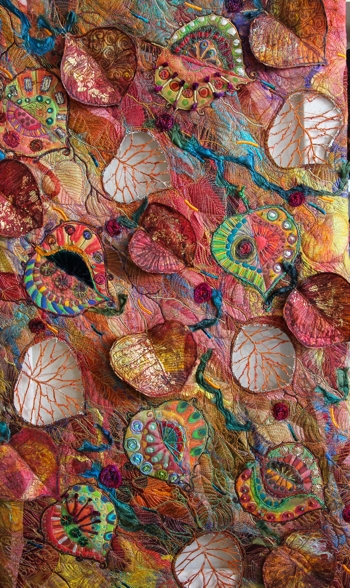 See more of Michelle's work
Artist Statement
"Alegria colour for the soul"
I am inspired by places I have been, the colours, the textures, the emotion, and the places I wish to visit. I love to feel their rhythm, are drawn to their conversation and enthralled by their colour and texture. It is the everyday that holds the magic and inspiration, watching the seasons change, listening and laughing with friends and family, the roar of the ocean, the colours in a landscape. I hope to convey colour and movement, how I respond emotionally to my environment. My textile artwork is not an accurate or literal depiction it is how I feel it in my heart, how I am moved, what makes me smile. All my textile artwork come from my heart, head and hand.
When I am creating I love to use hand dyed fibres and silks, found objects and collected treasures. I layer, tear, fold, stitch, paint, allowing my sewing machine to dance across the surface and pull all the elements together.
As a teacher my goal is to inspire my students to make them passionate with the use of colour and texture. I will introduce my them to new materials and techniques and watch them grasp and hold onto these possibilities adding their own signature. I want the class participants to hold these techniques tight in their head, heart and hands and allow them to grow and explode into a colourful and textural art piece.
Workshop: Texture, twists , twirls, 3d lifts and stitch
In my workshop we will be using beautiful hand dyed silk mesh from Treetop Colour Harmony and some hand dyed silk lap fibre in the tonings of the Lake Tahoe Autumn. This is our base cloth. The participants will be hand painting silk, using silk mesh and water soluble fabric to create both flat and 3D leaves we will also be cutting into the base cloth of stitched silk mesh to give the illusion of depth and movement. This textile art work will include free motion stitching, lace work technique and using beautiful hand dyed and silk fabric, fibres and materials to create a large framable art work.