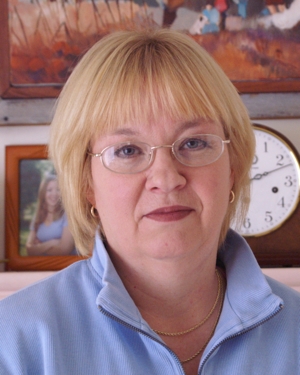 After working in a hospital lab and then chemical research for many years, Lenore Crawford wanted to pursue her passion for art as a full-time endeavor. She has worked in many different media including pen and ink, acrylics, wood, and others and became intrigued with fabric. She developed her own fiber art style and technique and called it "Impressionistic Fabric Blending" using 2" squares of hundreds of different fabrics cut randomly and assembled to create a sort of fabric "painting". Currently she is using fusing and fabric paints to create her fiber art. She lectures and teaches nationally and internationally and has won numerous prizes for her work including her Port of Cassis for Moda Best Wall Quilt at the AQS Show in Paducah, KY, 2011 and Monet's Lily Pond, 2011 Denver National Quilt Festival VI, Best Wall Quilt. Lenore loves using fabric as an art medium, and along with using fabric paints on her fiber designs she has achieved realism with texture and depth that other mediums do not achieve.
Workshop: Fusing/Fabric Painting to Create Realistic Art Quilts
All Student Levels
In this five day workshop students will create their own designs from their own photos. They can also use one of my patterns found at http://www.lenorecrawford.com/patterns_by_lenore_crawford.htm if they don't have their own photos. Freezer paper patterns will be created with my simple technique and then the design will be fused onto muslin. Fabric painting will be added to the finished design, and then the art quilt tops will be put together with a batting layer and backing. Finally top-stitching will be added for additional depth and texture. Supplies lists will be provided.
Day One: The first day I will introduce my technique to students with a lecture covering how I arrived at this style of fusing, how to choose a design, what makes a good composition, and how to do my fusing technique. Afterward I will demonstrate how to create a pattern from their photo and how to do the actual fusing steps. Students will make their patterns and begin their projects.
Day Two: Students will fuse their projects with individual help and direction.
Day Three: Fusing will continue since it will take a few days to fuse the whole project. Blending fabrics by value, color and texture will be discussed during the designing process. Each project will bring up another situation to address during design as each student will have a unique project.
Day Four and Five: When the projects are fused, painting will be done on them even if they only have part of their project completed. The fabric paints are used to add fine detail and shading creating depth and adding more realism in the design. Types of fabric paints will be discussed and painting techniques will be covered. I will work individually with students so they can learn where the fabric painting will enhance their own project. Finishing the pieces will be covered such as stitching and borders. Thread is another element of the finished design. It adds texture and of course keeps the fused pieces permanently attached to the finished piece. My simple binding technique will also be discussed.
Supplies provided by me: $10 for fabric paints, freezer paper, parchment paper, two yards of fusible web, patterns are extra if students prefer to use mine at $10 each. Maximum number of students is 25. Students' supplies lists are located on my website at http://www.lenorecrawford.com/Supplies_list.htm.
Classroom requirements: Students will need a working surface for fusing their projects to possibly a large foam core board for fusing and designing on, table top space for cutting fused pieces, ironing capability for each student at their workstation, and table top space for me. I will also give a slide presentation with my own projector and computer and will only require something to project onto.