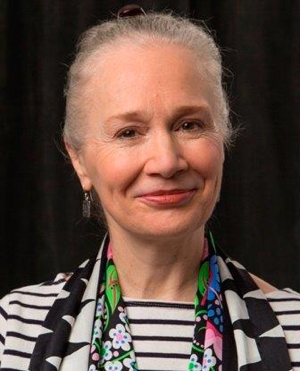 After a varied career in the design world, Jane began to quilt in 1980. She found that these "soft paintings" satisfied the draftsman, the craftsman and the artist in her. Consequently, she is now a dedicated (some say "obsessed") quilt artist and fabric designer.
Her art quilts have been shown in many national and international exhibits, including Quilt National 1989 through 2005 and Contemporary American Quilts, the first major exhibit of American art quilts in England. Her quilt "Willow" was named as One of the One Hundred Best American Quilts of the Century. Jane is also the author of "The Quilted Garden". The book includes twenty years of her work and exercises for making nature-inspired quilts.
Jane's love for historic decorative arts can be seen in all facets of her work, but it is especially evident in the exuberant fabric she is currently designing for FreeSpirit. Her designs are oversized and colorful and have been coined as "William Morris on anti-depressants". They are created for quilts, wearables and home decorating. Her latest book, Patchwork Sassaman Style, beautifully illustrates her fabric "in action".
Workshop: Abstracting From Nature
Nature is an endless source of inspiration. In this class we will examine a wide variety of artists interpretations of nature before beginning to manipulate natural forms ourselves. Through a series of exercises we will experiment with abstraction and exaggeration to capture the essence and energy of your favorite flora and achieve dramatic visual effects. We will then translate these ideas into fabric in the 2 to 5 day workshop.
Drawing skills are not needed but participants should have a strong interest in developing their own design language and unique visual symbols.
This class is especially beneficial for the drawing impaired and the tragically literal .