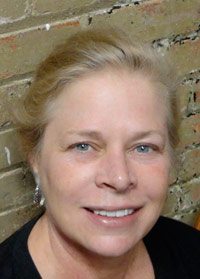 Jane Dunnewold is the author of Complex Cloth (1996), Improvisational Screen Printing (2003) and co-authored Finding Your Own Visual Language (2007). She teaches and exhibits widely and was awarded the Quilt Japan Prize in the 2002 Visions exhibition, and the Gold Prize, at the Taegue International Textile Exhibition. Dunnewold maintains Art Cloth Studios, in San Antonio, Texas. Additional information and exhibition experience can be found at complexcloth.com.
Workshop: Composing with Vintage Textiles
Do you have a small collection of older embroideries, pieces of quilts, or ethnic pieces that aren't in pristine condition? These distinctive pieces can become the centerpiece of your next quilt or composition. Don't have anything that qualifies? Welcome to EBay or Etsy – or your nearest thrift shop!
We'll rescue slightly damaged pieces. Or perfect ones that would never see the light of day – (what good are they in that drawer your keeping them in?) and incorporate them into a still life or other setting – building the rest of the composition around the needlework using, dyed fabrics, textile paints, Inktense blocks, needle felting and hand embroidery. Your finished piece will honor the traditions of the past and be a window into the delightful world of re-purposing.