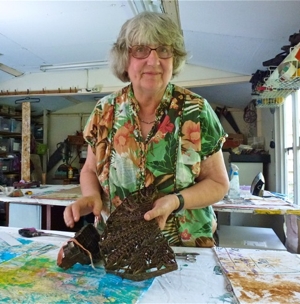 Els van Baarle is a textile artist/teacher from the Netherlands.
She teaches surface design classes all over the world.
She has won many awards and prizes with her large scale art-cloth pieces. Her work has been widely published.
Art-works are in private and museum collections.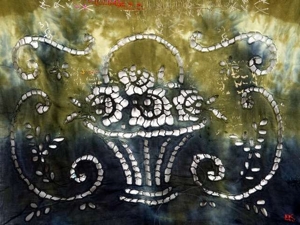 See more of Els' work
Workshop: Creating Contrast
Contrast can be made in various ways: color, shape, material etc.
In this workshop we will explore some of the possibilities. Students will use soy-wax and Procion dyes. on paper and fabric.
There will be exercises with paper and fabric on the elements of design.
Students can bring a work from the closet that needs some contrast . Maybe we can add silkscreen or dye to make it a masterpiece.
At first, it is important to know the possibilities of the materials. What can we do with the soy-wax? How do we use the tools?
The most simple way of working is using a brush, but we can make a lot of different marks with a brush. The marks look also different on paper or fabric.
Fabric and paper will be dyed with Procion MX dyes. The colors act not the same because of the variety of materials, but there is always this amazing harmony.
When the fabric or paper is dry, new ways of applying the wax can be made. That is the start of "layering" , foreground, background.
By repeating the steps wax/dye/wax/dye there will be depth.
For a complex result we will use thermofax screens, or printing blocks. We will make a composititon with the paper and fabric.
This composition can be glued or hand-stitched.
There will be a group-discussion on the works you bring that need some repair.