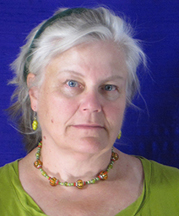 Betty Busby played at "Arts and Crabs" with her two little sisters as a small child, and continued her obsession through graduation from the Rhode Island School of Design, with a ceramics major.
She founded and operated a ceramic tile manufacturing firm in Los Angeles, and sold it after 18 successful years in order to move to New Mexico to raise her son.
She is a published fiber artist and teacher, and maintains a busy exhibition schedule nationally and internationally.
Workshop: New Techniques with Paint
I have developed several unique methods of producing surface design on fabric.
New Techniques is a class devoted to exploring those methods- we'll explore many different media, from fabric paint, to stencils, to ink pencils,
One of the advantages of using paint is that it will work on everything- cotton, bamboo, and synthetics- experimentation is encouraged!
I use a wet on wet painting system- the material is thoroughly dampened before the undiluted paint is applied. Due to the increased open time, the pigment can be spread on the fabric, colors can be blended directly, and brush strokes disappear. In addition, if the painting is done over a textured surface, an echo design of that texture can appear on the painted fabric due to the drying properties of the paint.
Using the painted fabric as a base, spectacular results can be achieved by over stenciling with Shiva paint sticks. I have a special procedure for producing sky and cloud forms this way, and will be happy to demonstrate it in class if there is interest.
We will also explore the use of custom made vinyl shapes for sun printing, and use these as a springboard for additional surface design.