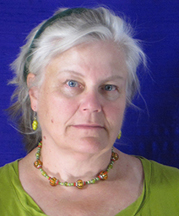 Betty Busby played at "Arts and Crabs" with her two little sisters as a small child, and continued her obsession through graduation from the Rhode Island School of Design, with a ceramics major.
She founded and operated a ceramic tile manufacturing firm in Los Angeles, and sold it after 18 successful years in order to move to New Mexico to raise her son.
She is a published fiber artist and teacher, and maintains a busy exhibition schedule nationally and internationally.
Workshop: Multi Media Quilting
For several years I have been exploring the use of various non woven materials in my fiber art.
They have been a wonderful addition to traditional fabrics, extending the range of expression that can be achieved.
The class will involve an explanation for different types of non woven materials, ways to produce images with them, and methods to incorporate them into art quilting.
The first part of the class will involve painting the non woven material.
We then fuse the material, and cut it out to be used for decorative elements.
The non woven shapes are then paired with woven fabrics that are trimmed to fit, and can then be used to create a quilt top.
In addition, I have developed new ways of painting fabrics. Students can make samples using my methods and materials, and combine them with the non wovens as desired.
I am also more than happy to assist students with making their own designs and patterns.
The aim of the class is to give each student many exciting ideas to experiment with.
Sample size pieces of the non wovens I use and one yard of silk habotai are provided in the class fee.