Velda Newman is an internationally recognized contemporary quilt artist, author and lecturer from Northern California. Known for her large scale, mostly organic designs, Velda creates original quilts of exceptional beauty and craftsmanship. For the past 18 years Velda's work has appeared in many national and international exhibitions and has been featured in over 30 publications, including Quilter's Newsletter and Threads magazine. She lives in Northern California, is the mother of 4 and the grandmother of 11.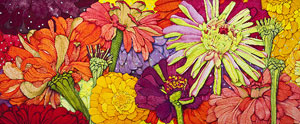 See more of Velda's work
Workshop: Creating Realism
Experimenting with fabrics to produce nature's wide range of textures and colors is the focus this workshop. We will explore the use of discharge (using bleach), ink, crayon and pencil work, foil and painting. Students will be taken through the process of developing an original composition using the overhead projector and making individual patterns.
(Supply lists are provided by the instructor and you are encouraged to direct any questions regarding required equipment and supplies to the instructor.)