Susan Shie has sewn, drawn, painted, and written obsessively since she was a small child, and began making painted diary quilts in 1980, before she finished her BA in Painting at The College of Wooster. She started to exhibit professionally in 1987, after earning her Master of Fine Arts degree in painting from Kent State University School of Art in 1986. She received "Best of Show" at Quilt National '87, showing in ten Quilt Nationals to date, and almost as many Visions exhibitions. Her work is known for its narrative imagery and stories, often tying together personal diary and themes like peace, healing, the earth, family, the kitchen, tarot, and astrology. Since 2002 she's included a lot of socio-political commentary in her writing, done with fabric paint and an airpen.
Susan taught college drawing classes in the 80s, and has taught her art quilting processes since 1989. Her work has been exhibited and published extensively since 1987, and she has received many awards and fellowships, including two NEA Individual Artist grants, several Ohio Arts Council grants, and a 6-months artist residency in NYC. Susan also teaches at her home at Turtle Moon Studios in Wooster, Ohio.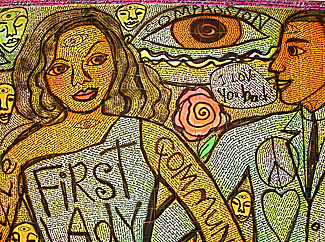 See more of Susan's work
Workshop: Time Capsule Story Quilts
In a safe and relaxed, yet hard working environment, explore hand brush painting, line drawing, and writing with markers and airpen, on white cotton fabric, to create diary paintings for quilting. Figure one finished painting per class day, and you'll get some of them "crazy grid" quilted during class. Your paintings will be about the size of a fat quarter, 18 x 22", give or take a little. Or you can jump to working on a larger painting to quilt, starting with your second piece.
Each day we'll start with choosing a theme together, and you can use it or not. Then we'll use sketchbooks to come up with ideas for the pieces we start that day.
We'll draw freehand on Kona cotton with black permanent fine tip markers, then brush paint in the colors, and finally use the markers again, as well as airpen (if you want to use it) to write freehand on the surface, creating a verbal texture over the images in the story. You'll be drawing like you did as a child, in relaxed wonder over your abilities, and writing off the top of your head, just like when you write a letter. No planning ahead. This spontaneity is what makes naïve art and children's art so appealing to the viewer and so happiness-making for the artist.
During the class, I'll demonstrate each process, and I'll spend time with each of you, making sure you're happy about how things are going. I'll do one-on-one instructions with each student and the airpen. (You don't have to try it at all, but those who do may love the airpen!) You will be able to work with it enough to see what it's like, but you'll still have to take turns using the airpen, once you've gotten your private lesson. I'll have two airpens going at once in the class. You may get lots of turns to use the airpen in this long of a class, if you like it. And I'll teach you how to load and clean it out, if you think you'll buy one for yourself later from Silk Paint. Don't buy one ahead of time, since you'll really want to see if it's something you want to own.
I'll also show you how to make my unique self-bordered quilt sandwich and then do crazy grid quilting, so you can start quilting this way, which is different from any way you've worked before. It's very simple, and you'll pick up the method very fast. You already know how to do this easy kind of sewing, but you haven't tried something this easy for making quilts yet, because you probably don't know how to let go and make art with gleeful abandon! Not YET!
The real purpose of my classes is to bring out your freer inner self, and to get your creativity really flowing out again. I try my best to get you to ignore rules and just let the ideas come out in a smooth stream of consciousness. As a group we'll create a list of possible themes for our works, and then vote in one theme each day of class. You don't have to do the theme if you don't want to. But whatever you do, you'll be giving show and tell presentations of your work in class, so we all know what else is going on around us during the class.
I don't need for your work to look like mine. I want you to be able to really get it, that it's healthy to get away from our social mores and let 'er rip sometimes, especially in making art! You'll learn a lot and have a good time, too! There's much less stress when you're not judging your work so much, and in that state, you're helping your body to heal.
Supply List for Susan's workshop
(Supply lists are provided by the instructor and you are encouraged to direct any questions regarding required equipment and supplies to the instructor.)