Sue Cavanaugh has explored various methods of patterning and dyeing cloth and now concentrates on whole cloth, stitch-resisted shibori. She has taken these traditional, hand-stitched patterning techniques, tweaked them and combined them in unique ways. Her work has been seen in national and international exhibits including the Columbus Museum of Art, the Ohio Craft Museum, and Riffe Gallery. She received the Lynn Goodwin Borgman Award for Surface Design at Quilt National '09, Best of Show at the 2008 Shibori Cut Loose exhibit at the Textile Center in Minneapolis and was commissioned by the Ohio Arts Council to create the 2006 Governor's Awards for the Arts in Ohio. Her studio is in her home in the Short North Arts District in Columbus, Ohio, and she is represented by A Muse Gallery in Taos, New Mexico.
Visit Sue's website: http://www.suecavanaughart.com 
Workshop: Shibori Stitch Resist with a Twist
All levels; No sewing machine
Class fee: $20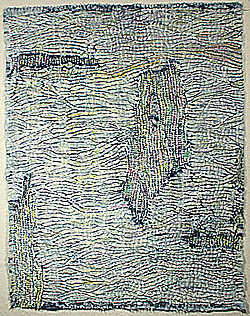 Experience the rhythmic, meditative and therapeutic joys of shibori stitching. Shibori describes the ancient Japanese methods of patterning cloth. You will learn mokume (wood grain), ori-nui (tooth pattern), maki-nui (chevron), karamatsu (Japanese larch) and the spider-web binding technique, as well as Sue's method of mokume that yields planned lines. We'll explore how shibori stitches have been used in the past and you'll be encouraged to develop your own unique style. Color will be added with thickened dye which allows you to control its placement. You will go home with several small studies and plans for future work.
We will be stitching and binding fabric for shibori (shape-resist) dyeing. Once stitched, pulled tight and knotted, we will be soaking the fabric in soda ash solution and then painting on thickened dyes: first in black to set the pattern, then in colors to embellish the pattern. You should wear gloves when you paint and when you remove the stitching. Painters' throw-away gloves will work. Stitch resist shibori is a slow process so expect to work small, take home samplers and sketches for further work. Students with more experience who would like to join us and do more independent work are welcome. We also will spend some class time on "shibori appreciation".
(Supply lists are provided by the instructor and you are encouraged to direct any questions regarding required equipment and supplies to the instructor.)