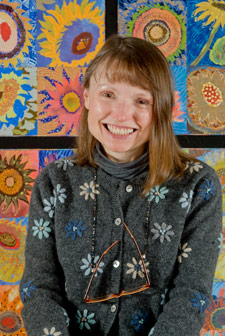 Sue is a full time studio artist creating art quilts and other dyed and painted fabric constructions since 1980. She was born in 1955 in Iron River in the upper peninsula of Michigan and was raised in Oshkosh, Wisconsin. While attending the University of Wisconsin Madison and majoring in molecular biology, she took two electives that would change the direction of her life: fabric design and art history. Many more art and science classes followed that led to an MA in biomedical illustration from the University of Texas Southwestern Medical Center in Dallas. Since then, she has sold her work through galleries and dealers throughout the United States. Her work is shown internationally and is in many corporate, private and institutional collections. She has designed installations for architectural spaces in fabric and other media. Her art quilts have appeared in numerous juried shows such as Quilt National, Visions, and Quilt Nihon. Sue is known for her quilts of brilliant dyed and painted textiles, her bold expressionistic style and underlying sense of structure.
Workshop: Sewing The Land – fused, collaged, and quilted landscapes
LEVEL: all levels
SEWING MACHINE USED? Optional—most people do not use their machine.
Each participant will create one or two landscape quilts along with several small studies. The class will study different approaches to representing landscape, including those of artists in a variety of media. Sue will then show students how to look at the landscape, analyze it, and translate it to fabric using several fused construction methods to help them each accomplish their goals. (Previous students of this class have told Sue that this changed the way they saw the land!)
Sue began making landscape images from raw edges, selvedges, and other odds and ends from scrap bags.  From there she has gone on to add other techniques and develop a large series of work inspired by wetlands and prairies in her childhood home state, Wisconsin.
(Supply lists are provided by the instructor and you are encouraged to direct any questions regarding required equipment and supplies to the instructor benner.sue@gmail.com.)