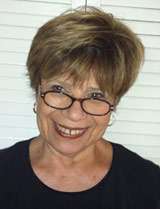 Rayna Gillman is an award-winning artist whose work has appeared in galleries and museums across the country.  Author of the new book, Create Your Own Free-Form Quilts, she creates one-of-a-kind quilts without a pattern, bringing her intuitive sense of color and design into play in her work and in her classes. An internationally known artist and teacher, she infuses her students with a sense of play and encourages them to use the words "what if?" as they experiment in their own work. She was nominated for the Teacher of the Year Award in 2010 by Professional Quilter magazine. Her best-selling book, Create Your Own Hand-Printed Cloth, published by C&T, was nominated for two book awards and her DVD, Printing From Your Pantry, produced by Quilting Arts, is a best seller, as well.   She is on the Arts Workshop faculty of the Newark Museum and has taught at Peters Valley Craft Center, Quilt Surface Design Symposium; Quilting by the Lake; and at numerous other venues in the U.S., Canada, and the U.K. She is a member of the Surface Design Association, SAQA, and a juried member of the Art Cloth Network. Rayna has appeared on national television as a featured artist on Simply Quilts, Quilting Arts TV, and has written for Quilting Arts, Quilters Newsletter, and Art Quilting Studio.  Her work has been featured in many books and is in private collections here and in Europe.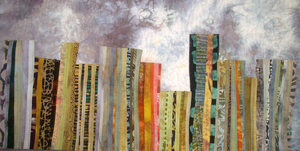 See more of Rayna's work
Workshop: Jump-Starting the Art Quilt
Confident beginner-to-advanced
Want to move away from traditional and not sure how? This workshop will help spark your creativity and banish "blank design wall" syndrome!
Day 1: Creative mind mapping, words and visuals will lead you forward. Working quickly using line, color and free-form design, you will work conceptually, follow your intuition, and experiment with a number of small studies using glue stick or fusing.
Day 2: Independent work – design/sewing, group sharing & discussion, show-and-tell, optional critique if you are stuck, and ample time to explore and play. You may choose to expand a small study to a larger piece, continue working in a series, or try out a new idea you didn't have time for on day one.
We'll stop along the way and give group and individual critique if you'd like it as you work.
Days 3 & 4 : Studio time for you to continue working with the potential of finishing new and original work. Individual feedback, group brainstorming, "what if?" problem-solving, and a whole new way of creating exciting quilts! Leave class with a way to express your personal vision, the start of new work, and tons of new ideas!
Supply List for Rayna's workshop
(Supply lists are provided by the instructor and you are encouraged to direct any questions regarding required equipment and supplies to the instructor.)