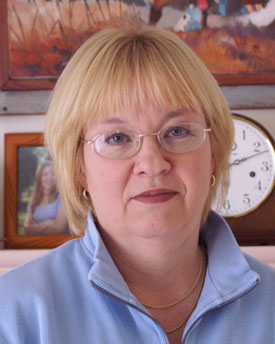 After working in a hospital lab and then chemical research for many years, Lenore Crawford wanted to pursue her passion for art as a full-time endeavor. She has worked in many different media including pen and ink, acrylics, wood, and others and became intrigued with fabric. She has developed her own fiber art style and technique and calls it "Impressionistic Fabric Blending" using 2" squares of hundreds of different fabrics cut randomly and assembled to create a sort of fabric "painting". Currently she is using fusing and fabric paints to create her fiber art. She has been lecturing on and teaching the fusing technique she developed to quilt guilds, private students, and quilt shows nationally and internationally. She has won numerous prizes for her work at art shows and quilt shows across the country. Her technique has been published in the Quilters' Newsletter Magazine and American Quilter Magazine, and her electronic book called "Impressionistic Fabric Blending – Create Your Own Art Quilt" has been well received. She was also featured on Kaye Wood's Quilting Friends PBS program in Episode #1607. A native Midlander, Lenore loves to travel to France to visit with friends and hike in the mountains with her children and husband.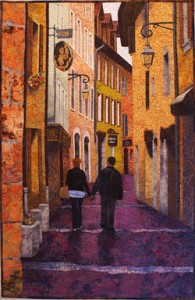 Workshop: Fusing, Fabric Painting, and Stitching to Create Impressionistic Fabric Art
In this workshop the designing of a fused project from a student's own photo will be undertaken.  We will work from a color photo that has been printed in a poster size up to 24" in one direction on their printer.  The design will be drawn onto freezer paper to be used as the pattern and on muslin on which the design will be created.  Students will learn Lenore's fusing technique using the freezer paper pattern and Misty Fuse fusible web.  Once the designs are fused Lenore will demonstrate her fabric painting technique and help students paint their own designs.  The students can then assemble their art quilts and begin top-stitching if time allows.  Thread and stitching also adds another design element to the piece.  Finishing techniques will be discussed, and students will have a beautiful finished art quilt and have learned a practical and exciting new method to create fabric art.
Supply List for Lenore's workshop
(Supply lists are provided by the instructor and you are encouraged to direct any questions regarding required equipment and supplies to the instructor.