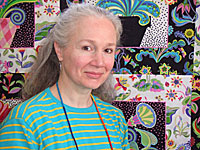 Jane A. Sassaman worked in many design mediums before discovering quilting. After concentrating in textile design and jewelry making at Iowa State University, she worked as a window dresser, a sign maker, an illustrator and as a designer of decorative accessories. Simultaneously, however, she continued her personal painting and fiber projects – embroidery, soft sculpture, costumes. Jane began to quilt in 1980. She found that these "soft paintings" satisfied the draftsman, the craftsman and the artist in her. Consequently, she is now a dedicated (some say "obsessed") quilt artist. Her work has been shown in many national and international art quilt exhibits, including Quilt National 1989 through 2005 and Contemporary American Quilts, the first major exhibit of American art quilts in England. Her quilt "Willow" was named as one of the hundred best American quilted of the century. Jane is also the author of "The Quilted Garden". The book includes twenty years of her work and exercises for making nature-inspired quilts. In 2004 and 2008, Jane was also nominated for Quilt Teacher of the Year.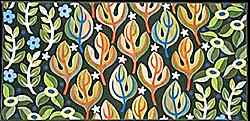 See more of Jane's work
Abstracting From Nature
Students will examine a wide variety of artists' interpretations of nature prior to manipulating natural forms to create an exciting composition. Through a series of exercises, students will experiment with abstraction and exaggeration to capture the essence and energy of his or her favorite flora, achieving dramatic visual effects. These ideas will then be translated into a composition and then fabric. Drawing skills are not required but students should have a strong interest in developing personal design language and unique visual symbols. Jane will also focus a portion of the workshop on techniques that will enrich the surface design of their compositions, including machine applique and decorative embroidery options. This class is especially beneficial for the drawing impaired and the tragically literal.
Supply List for Jane's workshop
(Supply lists are provided by the instructor and you are encouraged to direct any questions regarding required equipment and supplies to the instructor.)