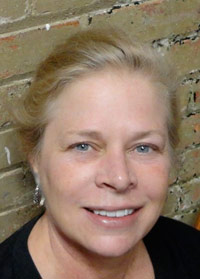 Jane Dunnewold is the author of Complex Cloth (1996), Improvisational Screen Printing (2003) and co-authored Finding Your Own Visual Language (2007). She teaches and exhibits widely and was awarded the Quilt Japan Prize in the 2002 Visions exhibition, and the Gold Prize, at the Taegue International Textile Exhibition. Dunnewold maintains Art Cloth Studios, in San Antonio, Texas. Additional information and exhibition experience can be found at complexcloth.com.
Workshop: The New Complex Cloth
The classic layering workshop updated! Explore the fundamentals of layered patterning, generated through dyeing and printing. Dunnewold will share her revised approaches to immersion dyeing, and the replacement of discharge processes with a variety of water-based resists. There will be an emphasis on tool making, and decorative finishing techniques, including foiling and metal leafing. Perfect for the beginning surface design artist or for more experienced folks interested in advanced layering. A supply list will be provided at the time of enrollment.
(Supply lists are provided by the instructor and you are encouraged to direct any questions regarding required equipment and supplies to the instructor.)